Unlocking the full potential of early detection
Erasmus MC (main applicant) and iDNA (NL) are part of a consortium executing the European lung cancer screening trial: 4-IN-THE-LUNG-RUN (4ITLR). The goal of the study is to evaluate personalised strategies in recruitment, screening intervals, smoking cessation and other co-morbidity (coronary heart disease and COPD) preventing strategies.
About
Background
Objectives
About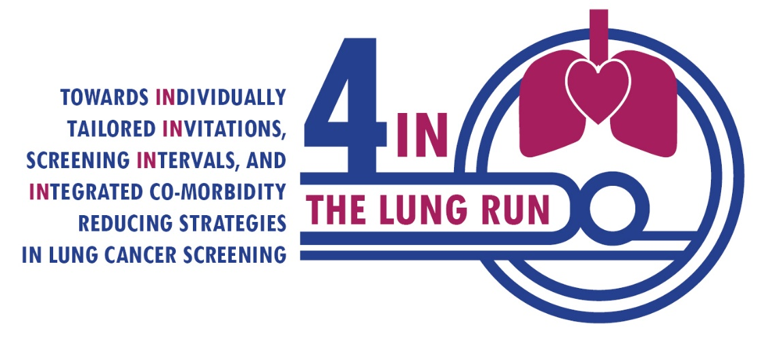 This trial, based on the NELSON results, intents to include 26,000 participants at high-risk of lung cancer, in screening sites in the Netherlands, Germany, Spain, Italy and France.
When successful, the study should lead to established and risk-based screening strategies which have demonstrated to be effective, affordable, acceptable to the people, cost-effective and suitable for implementation.
With this study, the consortium is attempting to make cost-effective lung cancer screening within reach for Europe. For more information, contact us directly.
Background
In Europe, there are 470,000 new diagnoses of lung cancer and more than 380.000 lung cancer deaths every year [1], which makes it the most lethal form of cancer. One of the reasons why lung cancer has such a high mortality rate, is the fact that diagnosis typically occurs when the cancer is already in a late stage of development. More than 50% of all lung cancer cases are diagnosed in stage IV, where 5-year survival rates (the percentage of patients still alive 5 years after diagnosis) range from 2% to 13% [2].
Following the results of the US National Lung Screening Trial in 2011, the United States Preventive Task Force (USPSTF) recommended that a screening programmes for lung cancer should be implemented. The actual introduction of these programmes in Europe however, has been sparse as European countries up to now are reluctant to implement them.
The  results of the NELSON trial are expected to persuade the decision makers in the EU to initiate the implementation of national screening programmes for lung cancer. The results show a much lower false positive rate and in addition include a more efficient screening protocol than the NLST.
Following these results, the 4ITLR trial has been initiated to provide further proof of efficacy and a clear image of what would be the most effective and cost-efficient strategy for implementation.
Ferlay J, Colombet M, Soerjomataram I, et al. Cancer incidence and mortality patterns in Europe: Estimates for 40 countries and 25 major cancers in 2018. Eur J Cancer 2018; 103: 356-87
Siegel RL, Miller KD, Jemal A. Cancer statistics, 2016. CA Cancer J Clin 2016; 66(1): 7-30
Objectives
The ultimate future goal of the project, regarding dissemination and exploitation, is the European-wide implementation of an affordable, cost-effective, volume CT screening programme for high risk individuals considering their backgrounds and gender.
This will be done by evaluating the comparative effectiveness and costs of innovative personalised approaches in (1) recruitment, (2) volume CT lung cancer screening and follow up, and (3) smoking cessation and other co-morbidity preventing strategies. Specifically, we aim:
To identify the optimal and most cost-effective strategy to invite (hard-to-reach) individuals eligible for CT lung cancer screening, by comparing different population and more individually (gender specific) tailored approaches across Europe
To design and integrate effective personalised smoking cessation and co-morbidity reducing services within a CT lung cancer screening context, in which additional information from the CT-thoracic scan on tobacco-related co-morbidities (coronary heart disease, COPD) is integrated
To assess the relative safety (i.e., comparable detection of favourable lung cancer stages I-II) of a personalised risk-based (often) less intensive screening regimen on the basis of a combination of (a) health risk factors, (b) baseline CT scan result and possibly ultimately (c) biomarker outcomes amongst individuals aged 60-79 years at high risk for developing lung cancer. 24,000 individuals with a baseline negative screening test result, who have given consent, will be randomised (1:1) to personalised screening (initially biennially) or standard screening (annually)
To use natural history models to estimate the long-term health outcomes (benefits and harms) and cost-effectiveness of incorporating the above invitation schemes, screening intervals, and integrated smoking cessation services in CT lung cancer screening in Europe
To disseminate (possibly gender-specific) optimal individualised risk screening policies for European citizens that allows stratification before, during (biomarker) and after the thoracic CT scan
To build capacity and develop guidelines and training programmes to ensure evidence-based high-quality volume CT thoracic screening and management of CT screening detected pulmonary nodules (pulmonology) and treatment throughout Europe
To ensure special attention to individuals with lower socioeconomic backgrounds, to sex differences, to low risk (former) smokers, and to individualised communication
Consortium
The following institutions are part of the 4-IN-THE-LUNG-RUN consortium
Erasmus MC
Professor Harry de Koning, MD, PhD
Principal Investigator of the European 4-IN-THE-LUNG-RUN trial, as well as for the NELSON trial and ROBINSCA trial
Professor of Public Health & screening evaluation at the Department of Public Health at Erasmus MC
Member of the Cancer Intervention and Screening Network (CISNET) group
Carlijn van der Aalst, PhD
Assistant Professor/ Coordinator 4-IN-THE-LUNG-RUN, as well as for the NELSON trial and ROBINSCA trial
Assistant Professor for the department of Public Health at the Erasmus MC
Member of the Cancer Intervention and Screening Network (CISNET) group
Kevin ten Haaf, PhD
Modeller/statistician for Erasmus MC
Member of the Cancer Intervention and Screening Network (CISNET) group and NELSON research group
Jeanine Roeters van Lennep, MD, PhD
Internist vascular medicine at Erasmus MC
Board member of the Dutch Society of Gender and Health and currently leads the ACE (Academic Centre of Excellence) GESTURE
University of Nottingham
Professor David R. Baldwin, PhD, MD, FRCP
Consultant respiratory physician and honorary professor of medicine at the Nottingham University Hospitals
Lead respiratory physician on the UKLS study, chair of the lung Cancer Clinical Reference Group for NHS England (National Lead)
Rachael L. Murray, PhD
Associate Professor of Health Policy at the University of Nottingham/UK Centre for Tobacco and Alcohol Studies
Currently working with the European Alliance for Personalised Medicine and the American Thoracic Society Clinical Practice Guideline working group on guidance and guidelines
Manpreet Bains, PhD
Assistant professor in Qualitative and Mixed Methods Health Research at the University of Nottingham
Jointly coordinates the UK Centre for Tobacco and Alcohol Studies' (UKCTAS) tobacco-related public involvement activity
Professor Sarah A. Lewis, PhD
Professor of Medical Statistics at the University of Nottingham
currently on the Cancer Research UK Tobacco Advisory Group funding panel
Professor Richard Hubbard, MD, PhD, FRCP
Professor of Respiratory Epidemiology at the University of Nottingham since 2006
Academic lead for the UK National Lung Cancer Audit since 2015
institute for DiagNostic Accuracy
Professor Matthijs Oudkerk, MD, PhD
Principal Investigator on Radiology/imaging and data acquisition of the European 4-IN-THE-LUNG-RUN trial
Chief Scientific Officer of the Institute for Diagnostic Accuracy- iDNA (formerly Medical Director of the Center of Medical Imaging North East Netherlands , NWO research Center of Exellence)
Professor of Radiology at the University of Groningen
Principal investigator for Radiology of the NELSON study
Erik Jippes, PhD, MBA
Project management and part of the management team of the European 4-IN-THE-LUNG-RUN trial
Managing Director of the Institute for Diagnostic Accuracy- iDNA (formerly Managing Director of the Center of Medical Imaging North East Netherlands , NWO research Center of Exellence)
German Cancer Research Center
https://www.dkfz.de/en/index.html
Professor Rudolf Kaaks, PhD
Professor (Chair, Cancer Epidemiology) at the University of Heidelberg
Head of the Division of Cancer Epidemiology at the German Cancer Research Center (DKFZ), Heidelberg, Germany
Professor Stefan Delorme, MD
Co-PI of the ongoing German Lung Cancer Screening trial (LUSI)
Chairman of the German Committee on Radiation Protection in Medicine
Catalan Institute of Oncology
http://ico.gencat.cat/en/inici/index.html
Professor Josep Alfons Espinàs, MD, PhD
Professor of the Master of Public Health UPF-UAB
Coordinator of the Office of Cancer Screening
Josep M. Borràs, MD, PhD
Director and CEO of the Comprehensive Cancer Centre
Director of the Catalonian Cancer Control Plan
Ernest Nadal, MD, PhD
Oncologist and lead of the Clinical Research group in Solid Tumours (CReST) within the IDIBELL
Belen del Rio, MD, PhD
Radiologist in the Chest Radiology Department at Bellvitge University Hospital
Professor Susana Padrones, MD, PhD
Pulmonologist at Bellvitge University Hospital
Coordinator of the Lung Function Unit
Institut Gustave Roussy
https://www.gustaveroussy.fr/en
Dr. Corinne Balleyguier, MD, PhD
Head of medical imaging department and head of diagnostic imaging unit at Gustave Roussy
Senior radiologist at Gustave Roussy
University College London Hospitals
https://www.uclh.nhs.uk/Pages/Home.aspx
Professor dr. Sam Janes, MD, PhD
Head of UCL Respiratory
Member of several scientific and granting committees including CRUK, British Thoracic Oncology Group and the NICE interventional procedures panel
National Cancer Institute of Milan
https://www.istitutotumori.mi.it/
Professor Ugo Pastorino, MD, PhD
Director of the Thoracic Surgery Division at the Istituto Nazionale Tumori of Milan since 2003
Presently responsible of three prospective trials on lung cancer screening with LDCT and circulating biomarkers
Dr. Gabriella Sozzi, MD, PhD
Head of the Tumor Genomics Unit at Fondazione IRCCS Istituto Nazionale Tumori
Ruhrlandklinik Essen
https://www.ruhrlandklinik.de/
Professor Clemens Aigner, MD, PhD, MBA
Professor of Thoracic Surgery and at University Medicine Essen – Ruhrlandklinik
Head of the Department of Thoracic Surgery and Surgical Endoscopy at University Medicine Essen – Ruhrlandklinik
Professor Michael Forsting, PhD
Director of the Institute of Diagnostic and Interventional Radiology and Neuroradiology at Essen University Hospital
Professor Martin Schuler, MD, PhD
Professor of oncology at the Department of Medical Oncology, University Clinic Essen
Professor Christian Taube, PhD
Professor of pulmonology at the Ruhrlandklinik
Felix Nensa, MD, PhD
Radiologist at the University Hospital Essen
Researchers
Researchers in the 4-IN-THE-LUNG-RUN trial.
Dr Emma O'Dowd, BMBS(Hons), MRCP, PhD
Partner 4ITLR Nottingham University
Dr O'Dowd is a consultant respiratory physician at Nottingham University Hospitals NHS Trust. She was awarded a PhD in lung cancer epidemiology entitled Factors influencing the diagnosis and subsequent prognosis in patients with lung cancer in 2017, funded by the Roy Castle Lung Cancer Foundation. Her research interests are lung cancer screening, early diagnosis and epidemiology of lung cancer. She is a member of the National Cancer Research Institute Screening, Prevention and Early Diagnosis Group and the British Thoracic Society Lung Cancer and Mesothelioma Advisory Group
Daniel D. Lubbers, MD, PhD
4ITLR early detection screening site, iDNA, the Netherlands
Daniël Lubbers is the chairman of the organisational unit of Radiology of the Medical Partnership Drachten (MMD, Medische Maatschap Drachten) at Nij Smellinghe, hospital, Drachten. Together with the entire organisational unit and hospital administration he has a keen interest in early detection and preventive medicine in general.
Daniël Lubbers completed his training in cardiovascular radiology and general radiology in 2012 in Groningen. In 2009 he obtained his PhD with a thesis on "myocardial perfusion in the detection of myocardial ischemia". A topic on which he acquired many invitational lectures and an award of the Radiological Society of North America (RSNA).
Besides graduating at medicine at the university of Groningen, he also graduated on psychology, with a subspecialty on neuropsychology. After graduating as a cardiovascular and general radiologist he was further trained in neuroradiology, obtaining his European Board certified Neuroradiologist diploma in 2018.
Kevin ten Haaf, PhD
Partner 4ITLR modelling and survival analysis
Dr. ten Haaf has a Master's degree in Econometrics & Management Science and wrote his PhD thesis (cum laude) on lung cancer screening ("Lung Cancer Screening: Optimization through risk stratification"). His main research interests are guiding public health policies through (cost-)effectiveness analyses based on natural-history modelling, risk-prediction and personalization of screening and overdiagnosis in screening. He has been involved in modelling studies and health technology assessments for lung cancer (screening) for the United States Preventive Services Task Force (USPSTF), Ontario, Canada, and Switzerland. In addition to being part of the 4-IN-THE-LUNG-RUN consortium, he is a member of the Cancer intervention and Screening Network (CISNET) group as well as the Dutch Belgian randomized lung cancer screening trial (NELSON) research group.
Horizon 2020
This project has received funding from the European Union's Horizon2020 Programme under grant agreement no 848294. Horizon 2020 is the financial instrument implementing the Innovation Union, a Europe 2020 flagship initiative aimed at securing Europe's global competitiveness.
Seen as a means to drive economic growth and create jobs, Horizon 2020 has the political backing of Europe's leaders and the Members of the European Parliament. They agreed that research is an investment in our future and so put it at the heart of the EU's blueprint for smart, sustainable and inclusive growth and jobs.
By coupling research and innovation, Horizon 2020 is helping to achieve this with its emphasis on excellent science, industrial leadership and tackling societal challenges. The goal is to ensure Europe produces world-class science, removes barriers to innovation and makes it easier for the public and private sectors to work together in delivering innovation.
NOTICE:
FROM 15-8-2022 THE 4-IN-THE-LUNG-RUN PILOT POPULATION RESEARCH STARTED IN THE NETHERLANDS.
CLICK HERE TO GO TO THE OFFICIAL PAGE TO SIGN UP FOR THE STUDY.
MEDEDELING:
VANAF 15-8-2022 IS HET 4-IN-THE-LUNG-RUN PROEFBEVOLKINGSONDERZOEK IN NEDERLAND VAN START GEGAAN.
AANMELDEN: KLIK HIER OM NAAR DE OFFICIELE PAGINA TE GAAN OM U AAN TE MELDEN VOOR HET ONDERZOEK.